Jaji Jalan Jalan: My First Time in Bandung #Part 3
Finally, kita dah sampai ke Part 3. Terima kasih kepada yang sudi baca Part 1 dan Part 2, now this final part is for you 💕 Pada hari ketiga kami cuma lawat satu wisata, dan masa selebihnya diluangkan untuk berbelanja. Takdelah shopping sangat (again, this is a budget trip), cuma adalah beli buah tangan sikit untuk keluarga dan sahabat.
Ok walaupun kami pergi satu tempat tarikan je, tempat ni sangat mengujakan! We were very excited just to be here haha. Tempat yang dimaksudkan ialah...
De Ranch!
De Ranch ni terletak di Lembang, tak jauh dengan tempat-tempat yang kami dah lawat pada hari sebelumnya.
Tujuan utama kami ke sini memang untuk naik kuda je. And of course, riding the horse was the most exciting part for me!
My horse was so naughtyyy. Sekejap-sekejap dia bersin lah, gerak kiri kanan lah. Luckily I kept my cool and manage to stay balanced on the horse 😎😆 Lepas tu kuda ni degil sikit, taknak dengar kata 👀, so susah sikit nak ambil gambar kat background yang cantik. I settled with whatever photos I have anyway (also bcs I know I can photoshop them later 😂).
Sepanjang berada di sini, I felt like I was on the ranch episode of Jane the Virgin 😂
Well I photoshopped the background, but its nice right!! 😜 The original background was some kind of umbrellaaa??? lol
ok this was me...👆
and this was Jane 👇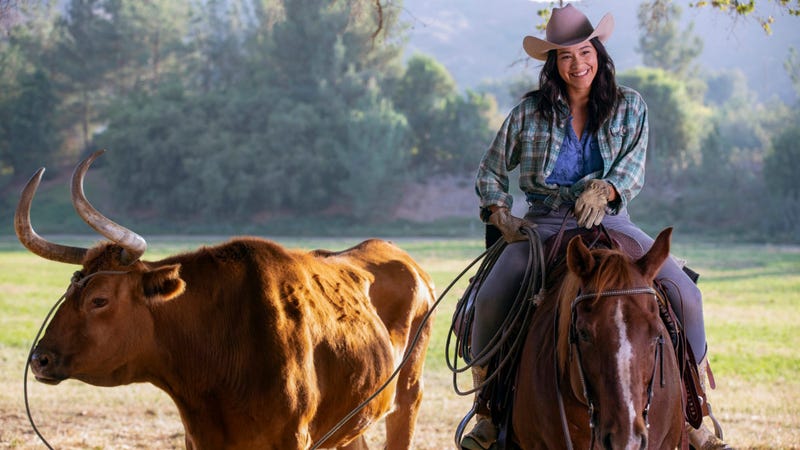 See what Im talking about? 😂 But in my case... there was no bull involved
Country vibesss
Anyway, we took two rounds of the horse riding session and it was so worth it. Satu round 30k rupiah. Kuda tu dipandu oleh pekerja kat sini, jadi kalau anda tak ada pengalaman naik kuda sekali pun, tak perlu risau.
Selain naik kuda, kami juga sempat cuba naik ATV di trek kecil yang ada di sini. Ada kecelakaan (kemalangan) yang berlaku masa tu 😂
Kisahnya, saya nak sangat cuba main ATV tu sendiri, tapi Syu dan Nab kata "kau kan tak pernah bawa motor, boleh ke bawa ATV?" Jadi disebabkan terpengaruh dengan kata-kata mereka maka keyakinan diri saya pun berkurangan seketika 😌 So for the first round, saya cuba bonceng dengan Nabila dulu.
Malangnya Nabila pun hilang kawalan sebab kami berdua terlalu berat 😆 Maka berlakulah sedikit kecelakaan, mujur saya sempat berdiri dan turun dari ATV tu sebelum terjatuh. It was a fun experience though haha. Lepas tu untuk round seterusnya, kitorang masing-masing naik seorang-seorang je, and turned out it wasnt that hard 😜 Although, the reality was veryyy far from the expectation 😂 (I will upload the video on my insta soon haha). Haha tapi takpelah at least dah cuba kan 😝
After spending hours at the ranch, we decided to go for a shopping session. Kami ke Pasar Baru, tempat yang cukup popular dalam kalangan orang Malaysia. Syarikat pemandu kami ada sediakan orang untuk tolong guide kami sepanjang di Pasar Baru, dan Mas Dani sangatlah membantu. Cakap je nak beli apa, dia akan terus bawa kami ke tingkat atau kedai yang sesuai. Kat sini pun akan ada ramai penjual yang datang kat kita dan pujuk supaya beli barang mereka. Kalau nak beli pun boleh, tapi menurut Mas Dani, harga yang mereka jual tu lebih mahal berbanding yang di kedai. Kat Pasar Baru ni juga boleh tawar-menawar
🤩
Petang tu lepas dah penat shopping, dan disebabkan Nabila teringin sangat nak makan McD, kami pun minta pemandu bawakan ke McD. Nasib baik McD ada nasi uduk, takdelah datang jauh-jauh tapi makan burger je kan
🤪 And the nasi uduk was delicious!
So our trip ended there. Keesokan harinya, flight kami 8 pagi jadi pukul 4 lagi kami dah bangun, bersiap, dan gerak ke lapangan terbang naik Grab.
It was a very short trip, but it was definitely memorable.